//
News & Articles
News & Articles
Benefit of Outsourcing: How Much do Companies Outsource?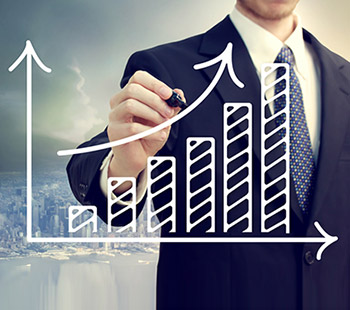 A Study by the National Foregin Council on Trade, conducted with the SHRM Global Forum found that the past five years have shown an increase in outsourcing (no surprise) but an increased dissatisfaction with it as well. Overall it found an 84% satisfaction level with outsourcing practices, but this was down from 92% from the first year of the survey (2000).
This fact reflects the increasing trend in outsourcing a broad array of company functions, as well as the entry of thousands of outsourcing providers into the marketplace.
However the practice is increasing commonplace with many companies seeing a benefit to outsourcing many jobs. The largest percentage of outsourced jobs is in IT (28%), followed by HR (15%), Sales & Marketing (14%), and Financial Services (11%).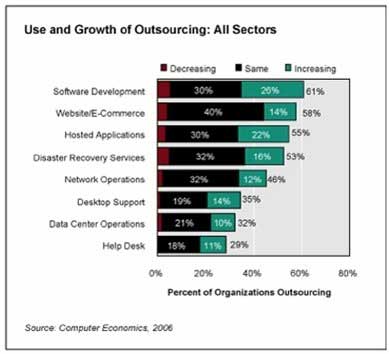 Make the Case for Outsourcing Business Functions
Less Obvious Benefits of Outsourcing
Outsourcing today can be viewed as a strategic management function instead of merely a cost-cutting function. Here are some of the less obvious "pros" to outsourcing:
Focus on Core Business
Its Allows managers to focus their priorities, attention, and best talent on the core activities that serve their customers, and move the less direct activities out of the way.
Level the Playing Field
All companies that outsource can reduce costs, but small companies can gain economies of scale and expertise that is normally enjoyed only by large companies, giving them a strategic as well as cost-efficient benefit of outsourcing.
Risk Management
There are risks that increase with outsourcing, but it helps to also look at outsourcing as a means of reducing risks, such as those associated with labor market conditions, government regulations, and technological progress. When you outsource, you transfer some of this risk to your service providers, and give your company the ability to be nimble, changing outsourcing providers when needed in a way that is much faster than what can be done in-house.
Initiative Speed
With certain forms of outsourcing, the benefit comes from getting pre-trained specialists onboard quickly, allowing you to start a new project fast and with little long-term commitment.
Cost Savings
Lower costs have always been the primary outsourcing advantage. Direct savings are made by the cost difference in salaries, benefits, and operational expenses between most Western countries and offshore destinations like India, China, and the Philippines. Indirect cost savings are often derived from the client's ability to refocus on its core business and outsource secondary processes to a specialized external provider.
Expertise
Outsourcing gives you access to knowledge pools that you might not have inside your own company. Instead of trying to build your own creative design department, you could, for instance, outsource your web design and marketing materials development to specialized agencies. In the old economy, big companies had their own departments for every business requirement. In the network economy, companies go back to their core business and use a network of external partners to take care of the rest.
Availability
In certain sectors, it can be very hard to find highly skilled people who are willing to join your company. A good example is the ICT sector. Not a lot of small businesses will be able to find and afford seasoned .NET developers. Outsourcing provides a channel through which business can find readily available high-level expertise at affordable rates.
Flexible Capacity Management
Outsourcing enables your company to manage its capacity and staff. The task of hiring personnel is passed on to an external provider with whom you can work out a deal based on a certain output quantity/quality, a certain number of hours, or any other type of commitment.